Facility Guide
International Exhibition Hall 1-8
This facility is comprised of Hall 1-8 for a spacious total of 54,000 square meters of exhibition space. Movable partitions can be used to divide this space into eight halls without pillars. Pits for various utilities such as electricity and water are built into the floors of all exhibition spaces, and ceiling height is 28 meters, allowing plenty of flexibility for your presentation.
International Exhibition Hall 9-11
This exhibition hall has a total of 18,000 square meters that can be divided into three sections by using movable partitions. Hall 9 has 9,000 square meters and can accommodate heavy exhibits. Hall 10 and Hall 11 each measure 4,500 square meters. International Exhibition Hall 1-8 and the Messe Mall walkway with a fountain and rich greenery can both be accessed directly from the second floor for integrated use with other Makuhari Messe facilities.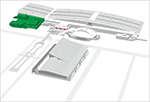 International Conference Hall
This building features 22 rooms, including the Convention Hall, which can hold up to 1,600 people. From international conferences to company seminars to parties , a wide array of events is possible. This area is also ideal for hosting seminars, lectures, and receptions held in conjunction with exhibitions and trade fairs in the Exhibition Hall.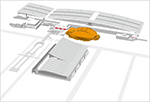 Makuhari Event Hall
This multi-purpose hall has a capacity of 9,000 people and 3,098 square meter arena, can be used for a variety of events from concerts, ceremonies and exhibitions to sporting events. An abundance of hanging batons and hooks (over 100) affixed to the ceiling above the arena make any type of staging possible.